EPCOT's Food & Wine Festival is one of EPCOT's most popular festivals every year.
Who doesn't like to celebrate food, though we can't help but notice that really it should be called the Food & Beer Festival, but we guess it doesn't exactly sound as classy.
We ventured all the way around the World Showcase to share what the best things to eat at each festival booth!
It's important to have a plan when you go to Food & Wine because there are 28 different booths!
PRO-TIP: Purchase an EPCOT wearable gift card to help keep yourself on budget!
Appleseed Orchard
Enjoy all things apple at the Apple Orchard booth!
Best Item: Apple Crumble Tart
A delicious, pressed graham cracker crust filled with apple pie filling, topped with the best part, a buttery cinnamon crumble topping. It's basically fall in a dish!
Australia
For a few minutes you can pretend that you are at an Australian barbecue with great flavors from down under.
Best Item: Grilled Sweet and Spicy Bush Berry Shrimp
These shrimps are grilled with pineapple, peppers, and onion served over snap peas, but you'll be so in love with these that you will forget about the snap peas entirely!
Belgium
Waffles! Get your waffles! Get your waffles and beef? There's more than just waffles at this booth!
Best Item: Beer-Braised Beef
We love to get a nice beef dish at the festivals because they are a great deal and it's like enjoying taster plates from great restaurants. The real home run on this dish are the gouda mashed potatoes.
Brazil
Get ready to enjoy South American flavors on dishes that you can't pronounce!
Best Item: Feijoada
If you are hungry in EPCOT and looking to fill up at just one booth, this mix of black beans, rice, and pork is a great dish for you!
Brew-Wing
Chicken wings are the perfect snack on a hot day, and the perfect food to pair with beer. Needless to say, this booth was one of our favorites!
Best Item: Sticky Wings with Peanut Sauce and Grape Gel
We're not sure what we expected, but wow! The peanut sauce is very sweet and so is the grape gel. On its own it's too much, but dip the wings in the included ranch dressing and it is the perfect combination of salty and sweet! And yes… they are very sticky.
Canada
Have you ever wanted to eat at Le Cellier but couldn't get a reservation or just don't want to spend an arm and a leg on dinner? Then this booth will have you singing O Canada!
Best Item: "Le Cellier" Wild Mushroom Beef Filet Mignon 
*BEST OF THE FEST*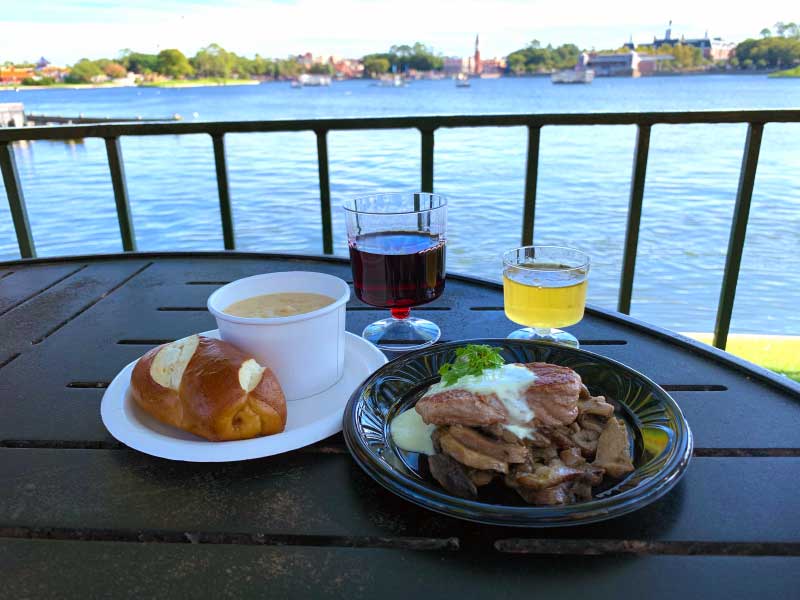 Oh… My… Goodness. This small but mighty little steak was cooked at a perfect medium rare and was seasoned to perfection, but that butter sauce – That truffle butter sauce was the stuff of dreams. I want them to bottle it so I can put it on everything!
China
We're not sure how authentic this booth is, but who doesn't like a good Chinese takeout?
Best Item: Pan-Fried Dumplings
Will this be something new and exotic? No. Will it be a good balance of something salty as you are nibbling through a very dessert heavy EPCOT? Yes. We particularly enjoyed the sweet and spicy sauce that came with it.
Coastal Eats
Seafood lovers unite! If you are not a fan of seafood, steer clear!
Best Item: Baked Scampi Dip
If you love all things seafood, then this dish is the stuff of dreams! A cheesy blend loaded with shrimp and scallops is served with a baguette for dipping. It may be hotter than the devil's front porch outside, but if you love shrimp and scallops, it's worth it.
Earth Eats
Even if you enjoy meat on a regular basis, you should still give this vegan booth a try. You might just be surprised!
Best Item: Impossible Meatball
It's easy to forget that this "meatball" isn't actually meat at all! But it's not all about the meatball – there is also an herbed polenta, rustic puttanesca sauce, and basil pesto.
Flavors from Fire
Flavors from Fire is the booth to try something new and push yourself outside of your comfort zone with things like chicken liver, pickled onions, and corned beef.
Best Item: Banh Mi Boa
This is a fluffy boa bun filled with a char-grilled Asian skirt steak, chicken liver aioli, pickled vegetables, and cilantro. These are flavors that are new to most Americans, so it's something new to try!
France
Can't pronounce the dishes on the menu? Eat a spoon of peanut butter and eat whatever they give you. Kidding! France is a front runner for popularity because everyone dreams of eating fancy French food beside the Eiffel Tower.
Best Item: Beignet aux Trois Fromages
We tend to always think of beignets as a delicious dessert (thanks to Miss Tiana from the Bayou), but the France pavilion teaches us that they can be made savory, too. These beignets are filled with three different cheeses for a warm hug in a bun.
Germany
Get ready for a mini Oktoberfest at the Germany pavilion! There are hearty dishes like German mac and cheese, bratwurst, and strudel. Prost!
Best Item: Roast Bratwurst
All the flavors of the spices and sausage come together in a pretzel roll for a delicious, salty, but heavy snack. More than a snack, this is basically a meal.
Greece
Opa! Welcome to the land of Mediterranean flavors and Greek wine.
Best Item: Wine Flight
When you think about wine most people tend to think of France, Italy, and Georgia, but have you ever thought of Greece? There's not much new about a lamb gyro, but a flight of white, rose, and a dry red from Greece is a new adventure to try.
Hawai'i
*BEST OF THE FEST*
Hawai'i is the EPCOT Food & Wine winner for best booth! Everything on the menu is a perfect 10. The worst part of the Hawai'i booth is the decisions that you will have to make!
Best Item: Kalua Pork Slider
Hawaii really knows how to do sweet and spicy with this pork slow cooked in a citrus pineapple sauce and placed on a sweet roll and drizzled with a spicy mayonnaise. Chef's kiss!
Hops & Barley
Despite the name, this booth also features two savory dishes and one dessert. Even if you're not a beer drinker, don't skip this booth!
Best Item: Beer Flight
Shocker that a beer flight would make the best item list at the Hops & Barley booth. The beer flight here features interesting flavored IPAs like strawberry, pumpkin, and one called "boom sauce".
India
The India booth features typical Indian takeout, so if you live in a larger metro area where Indian takeout is common, you probably will be underwhelmed, but if you've never tried curry-heavy Indian food, then it's a great trip to the land with the largest population on the planet!
Best Item: Potato and Pea Samosa
Samosas are a quintessentially Indian dish that is a great way to dip a toe into Indian culture. This is also a vegan dish, so everyone can take a try.
Ireland
The luck of the Irish strikes again! Grab a pint and a dish of hearty Irish food to bring a smile to your face.
Best Item: Warm Chocolate Pudding Cake
Who would have thought that a chocolate cake would make a best item list from Ireland, but boy, there was no competition! This cake is served warm and topped with a heavy Irish cream custard. HINT – You can ask for extra!
Italy
Italy is tough. We love Italian food. It's hearty food for the soul. But heavy pasta and Italian cheese mixed with the Florida heat is just not very appetizing. Sorry, Italy. Stick with the permanent Italy pavilion restaurants.
Best Item: Panna Cotta
A panna cotta is very similar to a mousse. This panna cotta is an orange blossom panna cotta with seasonal berries. It's light and simple.
Japan
The Japan booth has items for both picky eaters and ones more adventurous. If you're feeling froggy, go ahead and try the Takoyaki with octopus! If you're a little more reserved, try our favorite item below.
Best Item: Teriyaki Chicken Bun
This is a steamed bao bun filled with chicken, vegetables, and teriyaki sauce. This is simple, warm, fluffy, and well-seasoned.
Kenya
The smells coming out of this booth beckon you over before you know you wanted food from this booth. All of the food is cooked with African spices and citrus, and you can't turn away.
Best Item: Kenyan Coffee Barbecued Beef Tenderloin
Coffee enhances the beef flavor and tenderizes it as well, so you know this is going to be great! The beef is on top of sweet potato and corn mealie pap and kachumbari slaw.
Mac & Eats
* BEST OF THE FEST *
We think that EPCOT took notice that various macaroni and cheese dishes kept topping peoples' favorite foods lists in Walt Disney World, because this year they opened a booth dedicated to the cheesy noodle goodness.
Best Item: Cowboy Macaroni and Cheese
Macaroni and cheese is already soul food, but this booth covers it with smoked pork belly, brisket burnt ends, pickled peppers, onion straws, and barbecue aioli. Now, I'm hungry…
Mexico
Mexico is always a popular booth at the festivals, though we think there is not enough hype about their desserts. The Mexico booth is typically one of the more expensive booths, so for us, it makes more sense to eat similar food at the permanent quick service for less money.
Best Item: Capirotada de Chocolate
This is a Mexican chocolate bread pudding served with a chocolate creme anglaise, so it is hearty chocolate with a little hint of cinnamon. We were getting serious Mexican hot chocolate vibes.
Shimmering Sips
There must be a rule that all festival booths must serve a type of food in order to be there because Shimmering Sips is a mimosa booth with a random guava mousse on a sugar cookie. It's tasty, but it seems out of place.
Best Item: Mimosa Flight
Why choose between the various mimosas? Try them all! The flight will give you a small cup of Berry Sour Ale, Blood Orange, and Key Lime mimosas.
Spain
Spain, just drop all of the other items off your menu. No one wants a seafood salad or a cup of oily charcuterie. Give the people what they want! See below…
Best Item: Paella
Paella is a traditional Spanish dish that is as iconic to Spain as bullfighting. Taste rice, chorizo, and shrimp all cooked with saffron.
The Alps
*BEST OF THE FEST*
Yodel-le-he-huuuuuu! Everything at The Alps booth will make you sing from the mountains. The dishes may seem basic with various foods covered in swiss cheese, but this is a best of the fest booth!
Best Item: Warm Raclette
This is a dish with little potatoes, pickles, and  fresh baguette all covered in a slab of hot melty cheese. It's simple, but so delicious.
The Fry Basket
America's favorite side dish now has its own festival booth! This is one that we hope sticks around to add different flavors and dishes for years to come.
Best Item: Fry Flight
This is a flight of 3 completely different fries. The first is a salt and vinegar fry, the second is a savory barbecue bacon fries, and finish it off with sweet potato casserole fries with toasted marshmallow cream and caramel whisky. Bring your wet naps!
The Noodle Exchange
EPCOT should rename this booth the Asian Exchange because all of the different dishes represent a different area in Asia. There is Vietnamese, Chinese, and Thai food on the menu.
Best Item: Traditional Spicy Vietnamese Beef Pho
Pho is the hot trend in the world, everyone wants to try the traditional Vietnamese noodle soup. This booth sells a large portion of pho for only $5! It was loaded with noodles and a huge helping of beef.
The Swanky Saucy Swine
This booth highlights pork dishes and all that you can do with different parts. We were surprised that with all of the pork, there was no bacon!
Best Item: Grilled Pork Shoulder Lettuce Wrap
Pork is a heavy, flavorful meat. The lettuce wrap really lightens up the dish and brings a freshness that it needs. The pickled onions and lime crema add even more freshness that keeps you from walking away feeling heavy.
Want More Foody Fun?
Be sure to grab your festival passport on your way in to help you keep track of the different booths. For even more fun, flip to the back to find Emile's Fromage Montage – A mix and match cheese trail. If you eat a mix of all 6 dishes you can trade in your passport for a treat… More cheese! The prize this year is cheesecake soft-serve served in a souvenir Food & Wine glass.
Don't fret! This cheese trail can be done over the course of the whole festival, and does not need to be completed in one day.
Bonus tip: If there is a dish on Emile's Fromage Montage that is a hard no for you, you can purchase another cheese dish that you have already had stamped. You can get 6 of all the same item if you want. Live your best life!
Comments, Questions, be sure to leave them in the Comment Section Below!
This MDT Post By: Erin Schreiver
Erin is a MilSpouse who loves going to Walt Disney World with her family, pin trading, and collecting Minnie ears and coffee mugs! Check out her bio.
---
Planning a Disney Trip? Want to get the best military discounts that are available? Feeling a little confused?
See Our Great Disney Discount and Planning Info:
Learn about the Disney Armed Forces Salute the best military discount that there is for Disney.
See our Topic Overview Pages:
---
---