EPCOT was the second theme park to be opened at Walt Disney World. It opened on 1 October 1982. It is a very large park and is almost twice the size of the Magic Kingdom.
EPCOT is like two different theme parks in one. It is comprised of the original Future World (now divided into World Celebration, World Discovery, and World Nature) and World Showcase. The EPCOT main entrance is at World Celebration.
See, The History of EPCOT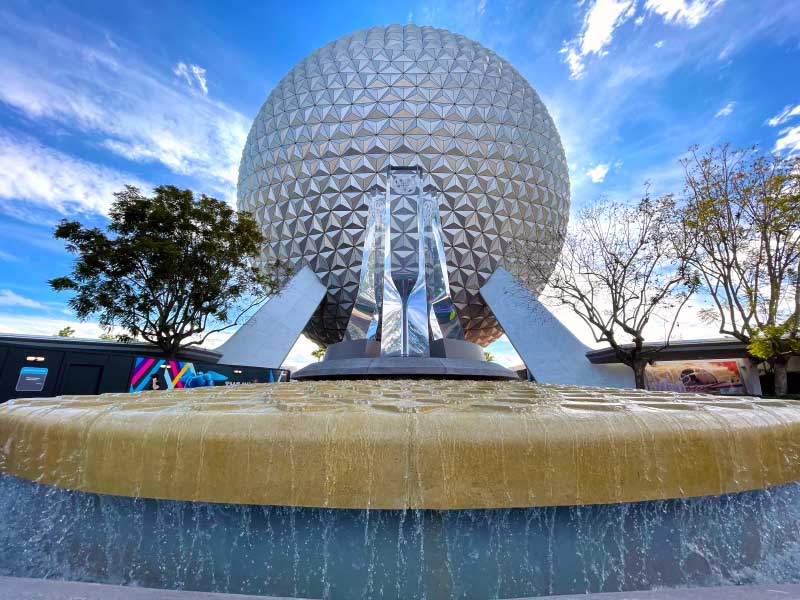 History and Name Changes
Historically, EPCOT stands for Experimental Prototype Community of Tomorrow, or alternately as some say: Every Person Comes Out Tired. EPCOT was Walt's original vision for where his Florida Project would lead. After the Magic Kingdom was established, he would then begin building a community of tomorrow using all of the great technological innovations used in the theme park and many new evolving ones. People would live and work in this community.
After Walt's death the Magic Kingdom and Disney World was completed, but the company floundered for direction and focused solely on theme parks and entertainment, abandoning Walt's dream of community innovation.
When EPCOT Center opened in 1982 the name was a tip of the hat to innovation and community rather than the beginnings of an actual Experimental Prototype Community of Tomorrow. Over the years the park's name was changed several times, starting out as EPCOT Center, then becoming Epcot '94, Epcot '95, back to EPCOT Center, then Epcot 2000 with a fancy Mickey Hand holding a magic wand and the words Epcot 2000 over Spaceship Earth. After the year 2000 was over they took off the 2000 and left the Epcot for a while. In 1996 it became just Epcot, and most recently all caps returned in early 2020 making it EPCOT without the Center.
For most of its history EPCOT has been divided into Future World and World Showcase. But in 2019 EPCOT began a multi-year makeover for the Walt Disney World 50-year anniversary in 2021. The entirety of Future World would be broken up into 3 new lands, World Discovery, World Celebration, and World  Nature. This naming convention blends with he existing World Showcase. Each area focuses on the second word in the title.
EPCOT was in the midst of this makeover when covid hit. Many plans were changed or scrapped due to money shortages. Construction stopped and then restarted slowly. As of early 2022 major construction is still under way with big sections of the center of Future World (the new World Celebration blocked off). Disney has said this construction will not be completed until sometime in 2023!
In this post I'll be using the new naming convention as Disney is gradually switching to it in day to day operations.
In this Overview I use the following Shortcuts:
Attractions
Height Restrictions – Some of the more thrilling attractions have height restrictions. If children are shorter than the set limit, they cannot experience the attraction. Disney will not bend on these restrictions as they are for safety purposes; in many cases they have to do with the attraction seating and associated restraint capability. In some cases just because your child is tall enough to ride, doesn't mean they are mature enough.
Attractions with height restrictions will be designated like this: (H33) the H designates height restriction and the following number designates how many inches tall you must be in order to ride. In this example (H33) you must be 33 inches tall to ride. Cast members will measure those in question.
Disney's ride policy with children. A child must be at least 14 to ride with a child 7 or older, but an adult 18 or older must be sitting with a child 6 or younger.
25 Top Disney World Rides for the Whole Family
Disney Genie
Attractions that participate in Walt Disney World's pay to skip the line system will be designated like this:
Genie+ eligible attractions will be indicated by (Genie+)
Individual Lightning Lane Purchases eligible attractions will be indicated by (Individual Purchase)
Virtual Queue
From time to time Disney uses virtual queues for new and or high demand attractions. Reservations are made via your My Disney Experience app on the day of the desired ride. Reservations open at 7 a.m. for Disney resort guests and are often all taken up soon thereafter. Indicated by (Virtual Queue).
Read more about Genie and Genie+ here
Food
I'll give a brief overview of the type of food available at each restaurant as well as the type of restaurant (table service, etc.), meals served, and average cost.
Restaurant types consist of counter service, grab-and-go, table service and some buffet restaurants. At least one table service restaurant in each park offers a character meal.
Look for these keys to the rough cost of restaurants and the meals they offer:
$ = Less than $15 per adult
$$ = $15 – $30 per adult
$$$ = $30 – $60 per adult
$$$$ = over $60 per adult
B = Breakfast
L = Lunch
D = Dinner
S = Snack
Meal Abbreviations:
B – Breakfast
L – Lunch
D – Dinner
S – Snacks
Arrival
There are two entrances to EPCOT, the Main Entrance and the International Gateway.
The International Gateway is an entrance for those guests staying at Disney's EPCOT Area Resorts, those transferring from Disney's Hollywood Studios via boat, and those arriving via Disney's Skyliner gondola system. This entrance is located towards the rear of the park in the World Showcase section between the UK and France Pavilions.
Guests from the Deluxe EPCOT Resorts may walk or take a water taxi to the International gateway, where they will go through a Security check and then enter the park. The water taxis run on a loop from the International gateway, to each of the Deluxe EPCOT Resorts and also to Disney's Hollywood Studios. You an also walk to Hollywood Studios from the EPCOT Resort Area.
Disney' Skyliner gondola system transports guests from Disney's Riviera, Caribbean Beach, Art of Animation, and Pop Century Resorts and Disney's Hollywood Studios to the International Gateway Skyliner station.
All other guests will arrive at EPCOT at the Main Entrance.
Those driving will park and then board trams for a brief ride to the EPCOT main entrance or walk if they are parked close enough.
Both Disney and non-Disney buses arrive at the bus terminal just to the side of the EPCOT entrance.
After a security check you'll enter the ticketing area, where you can buy tickets if you need to, and then on to the entrance area, which leads into Future World.
The Monorail, which runs to EPCOT from the Transportation and Ticket Center, also arrives here, but inside the security area as you were screened prior to boarding.
EPCOT's Main Entrance leads into World Celebration where you will begin to explore EPCOT.
World Celebration
Note: At this time, much of the central portion of World Celebration behind Spaceship Earth is walled off and still under construction.
World Celebration is themed around new experiences that connect people to one another and the world around them.
You'll enter World Celebration through a remodeled green-space with a new fountain that leads towards Spaceship Earth, which dominates your view.
Spaceship Earth is the 'Golf Ball' looking sphere, which is one of World Celebration's attractions.
To pass further into World Celebration you'll walk under Spaceship Earth on either the right or left. Both routes come together on the backside of the attraction on a long central plaza.
World Celebration leads towards the rear of the park and is the connection to World Showcase. World Celebration sits between World Discovery to the left and World Nature to the right.
As you leave Spaceship Earth behind you'll encounter a beautiful hub divided into several different gardens, with a central planter based on the five-ring EPCOT logo. Filled with ample seating and shade. Each of these gardens will have their own identities, and they'll change along with the festivals throughout the year.
This all will surround CommuniCore Hall and CommuniCore Plaza.
CommuniCore Hall is a multi-use facility and outdoor event space that will be a flexible exhibition and gallery space, offering a wide variety of experiences that highlight art, live music, food – complete with a demonstration kitchen – and more.
CommuniCore Plaza is an outdoor event space that will have the flexibility to host intimate musical performances that extend out into the nearby gardens, as you can see in the rendering above, as well as large-scale concerts.
Adjacent to CommuniCore Hall will be a new Mickey & Friends location where you can meet some of your favorite Disney pals.
The CommuniCore name reaches back to the origins of EPCOT. The original 2 main buildings in World Showcase were called CommuniCore East and West.
Attractions
Spaceship Earth (Genie+) – Ride through an audio-animatronic history of communications. Board your two to four person vehicle for a ride through time. As your vehicle proceeds up the track into the geosphere (the Spaceship Earth "golf ball" as many describe it) you will pass many scenes of how communication has progressed from cave paintings to the printing press and on to computers. At the top you'll emerge into the top section of the sphere which is wide open and dark except for the huge planet earth projected near the top. Then your car turns around for the steep backwards journey down. While descending you can answer some questions about your preferences on your vehicle screen and then see what your future might be like. My tip is to do this attraction at night for the best experience. The ride is very dark and if your eyes are used to the daytime sun some of the first scenes will be hard to see!
Journey Into Imagination with Figment (Genie+) – Tour the Imagination Institute on this classic ride with Figment, the original EPCOT Center Character. This is a look at how our senses play a part in our imagination with Dr. Nigel Channing and a cute purple dragon named Figment as your guides!! Each ride vehicle has 2 rows and seats 2+ per row.
EPCOT Character Spot – Meet your favorite Disney Characters. Mickey Minnie, and Goofy.
Disney and Pixar Short Film Festival  (Genie+) – Shorts from and previews for upcoming movies. Updated as needed.
Dining
Connections Café & Eatery – This new location features two distinct experiences all under one roof – an eatery on one side serving lunch and dinner menus, and a café and pastry shop on the other open all day long. Enjoy food inspired by delicious cuisines from around the world.
Connections Café – S $ – Counter Service – Starbucks coffee, specialty beverages and Disney-baked goods.
Connections Eatery – LD $ – Table Service – Take your taste buds on a tour around the world with dishes inspired by Italian, French and Asian cuisines. Serving burgers, pizzas, salads and more.
Club Cool – Club Cool Hosted by Coca-Cola invites guests to taste drinks from around the world, bringing the global experience of Coca-Cola to life. Taste all kinds of odd sodas for free!
Shopping
Creations Shop – One-stop shopping for Disney character gifts and park merchandise.
World Discovery
In World Discovery, stories about science, technology, and intergalactic adventure come to life.
World Discovery encompasses the eastern half of the old Future World and its 4 pavilions: Guardians of the Galaxy – Mission Breakout (formerly Ellen's Energy Adventure), the unused Wonders of Life pavilion (said to be converting into a kids play zone), Mission Space, and Test Track.
Attractions
Guardians of the Galaxy – Cosmic Rewind – (H42) (Individual Purchase) (Virtual Queue) – Join Rocket, Groot, Gamora, and Star-Lord on an urgent mission where you'll rewind, rotate and head towards the action through an exciting space pursuit. This family-thrill attraction features the first ever reverse-launch on a Disney coaster and is one of the largest fully-enclosed coasters in the world! A new innovation from Walt Disney Imagineering—this coaster rotates 360 degrees so you can focus on the action!
Mission: SPACE (H44 – Orange; H40 Green) (Genie+) – Experience a simulated launch into space in this realistic simulator which NASA helped design. Centrifugal force is used to simulate periods of both high and low gravity for liftoff, space travel, and landing. Each rider is assigned a task to perform on the mission, which involves pushing a couple of buttons. The ride vehicles are a bit cramped and those with a bit of claustrophobia might not want to attempt this. You will enter the vehicle from the side and sit in one of the four seats and then pull down a roller coaster type torso restraint. As the vehicle closes the instrument panel will tilt towards you so that it is just a couple feet from your face and the controls can be reached without moving your arms.
The method of simulating gravity on this ride has been known to make some queasy. So much so that after opening, half of the ride vehicles were dedicated to a non-motion version (the Green Version). In 2017 the Green version was totally redesigned to add some motion, but not enough to induce motion sickness (hopefully).
Today the ride has the Orange (original, full motion) and Green versions. Prior to entering you will pick which version you would like to experience.
The orange version simulates a rocket launch from Florida during which you will experience 2.5 Gs followed by a Zero G experience. Then you on your way to Mars, with a gravity slingshot around the moon, "Hypersleep", a meteor storm, deceleration for landing, followed by a very nerve-racking landing. While the Orange version ride is operating you should keep your head facing straight ahead at all times to help with any motion issues.
The Green version consists of a lift off from Florida (not as intense as the Orange version) and an orbital tour around the Earth and a landing back in Florida during a thunderstorm.
Test Track (H40) (Genie+) – Riders design their own custom concept vehicle then test it out on the Test Track in a six-passenger car. You will first use a computer screen to design your car balancing power versus efficiency and customize the look. Then you will move on to ride. The cars seat 6 people, three each in the front and back rows. Your car will then perform a set of "test runs" to measure performance under different conditions: climbing, swerving and braking to name a few. After each test you will see how your design performed. The grand finale is a high-speed run outside the building reaching speeds over 65 mph. A single Rider Line is available.
Dining
Space 220 – L $$$, D $$$$ – Table Service – Take a visually stunning ride on the pace elevator to a space station 220 miles over Central Florida. There you'll enjoy amazing expansive views of the earth and the goings on in space all while dining on excellent and novel food and drink. The menu here is Prix Fixe, meaning there is a set price per person for the meal (lunch $55 adult/$29 child & dinner $79/$29 child). For this price you can pick your choice of appetizer and entree from several  menu items. Extras (sides, desserts, and alcoholic drinks) are extra.
Space 220 Lounge – L $$$, D $$$$ – Table and Bar Service – The lounge has an a la carte menu serving light bites, some of which come from the dining room menu. Seating is at tables and the bar.
Space 220 Lounge – L $$$, D $$$$ – Table and Bar Service – The lounge has an a la carte menu serving light bites, some of which come from the dining room menu. Seating is at tables and the bar.
Space 220's options include salads, steak, chicken, salmon, pasta, and a burger. All items are presented in unique ways to give you that futuristic space feel.
Reservations are highly suggested at both the Space 220 venues as it is a very new and popular restaurant. Reservations often fill up 60 days prior to the date in question. It is possible to walk up and be seated, especially for the lounge, though there may be a long wait.
Shopping
Treasures of Xandar – A merchandise location operated by "The Broker," a proud Xandarian who is bringing his locally-famous shop to EPCOT. This out-of-this-galaxy shop features treasures acquired during travels across the galaxy, as well as items that pay tribute to the planet Xandar and the Guardians of the Galaxy.
World Nature
World Nature is dedicated to understanding and preserving the beauty, awe, and balance of the natural world. It includes The Land and The Seas with Nemo & Friends pavilions, as well as the forthcoming Journey of Water, Inspired by Moana.
World Nature encompasses the western half of the old Future World and 2 if its pavilions: The Land and The Seas with Nemo and Friends. A new Moana based attraction is said to be in the works.
Attractions
Soarin' Around the World  (H40) (Genie+) – Fly over scenic world destinations on this hang-glider simulator. Each section of this huge simulator has three long rows of seats. You will strap into your seat and then be lifted up into the air where you will be suspended in front of a huge wide screen upon which the flyover scenes are displayed. Try to notice the scents that accompany many of the scenes! Your seat will move and sway in tune with the video to strengthen the feeling of flying.
Living with the Land (Genie+)  – This boat ride takes you on a tour of greenhouses and other methods of food production. You will tour several greenhouses with different environments like tropical and temperate and see methods of efficiently raising crops like hydroponics and farm raised fish. You will even see some Mickey shaped produce.
Awesome Planet – A 4D film about the Earth's biomes and the perils of climate change, with narration by Ty Burrell who plays Phil Dunphy on the ABC sitcom Modern Family. The first part of this film is a beautiful visual tour of the planet earth, but the second half devolves into man-made global warming propaganda and shaming.
The Seas with Nemo and Friends (Genie+) – Ride your Clam-Mobile and have fun under the sea with the cast of Finding Nemo. The clam-mobiles are 2+ person continuous feed ride vehicles. After you board you will meet Mr. Ray and his class on a field trip and learn that Nemo has wandered off and you must find him. The ride deposits you in a large lofted two-story area where some of the walls are huge aquarium tanks. Explore all types of interactive exhibits all about life under the sea.
Turtle Talk with Crush (Genie+) – Engage in real-time questions and answers with Crush in this interactive show. This interactive show is the headliner in the Seas with Nemo and Friends. It features a computer-animated version of Crush the surfer dude turtle from Finding Nemo. He has 10-minute conversations with his visitors and interacts personally with the audience. Be sure to do this before you leave Nemo and Friends.
Journey of Water, Inspired by Moana – OPENING 2023 – Will be the first Walt Disney World theme park experience featuring by Moana. This lush exploration trail will invite guests to meet and play with magical, living water. Water will have a personality of its own, helping guests learn how to protect the natural water cycle in a fun and engaging way.
Dining
The Garden Grill – D $$$ – Table Service – Chip n' Dale's Harvest Feast offers an all you care to enjoy meal served family style on platters, plus character dining with: Mickey, Chip and Dale, and Pluto. Enjoy char-grilled filet of beef, roasted turkey breast with stuffing and gravy, sustainable fish of the day. Plus, garden vegetables, sweet potato fries, buttermilk mashed potatoes, rice pilaf, and home-style macaroni & cheese.
Sunshine Seasons – BLD $ – Counter Service – Seasonal soups, salads, sandwiches, and desserts.
Coral Reef Restaurant – LD $$ – Table service – Seafood steaks, and more. Enjoy watching the Living Seas aquarium while dining.
Shopping
No major shops.
World Showcase
EPCOT's World Showcase is a change of pace from both Future World and the other Disney theme parks. World Showcase is comprised of 11 "pavilions," each representing a different country. The pavilions are spread out on a promenade that circles the World Showcase Lagoon. In all it is about a 1.2-mile walk around the World Showcase.
Each pavilion is designed to be representative of that country and make you feel as if you are there. Each features entertainment, dining and shopping unique to their culture. Some also have attractions, short tourism movies, or street performers.
The World Showcase is much beloved by military families, as many of the countries represented are ones that we have spent time in. Enjoying the sights, foods and shopping brings back fond memories.
The countries of the World Showcase, moving clockwise around the promenade are: Mexico, Norway, China, Germany, Italy, America, Japan, Morocco, France, The United Kingdom, and Canada. Each country is staffed primarily by residents of that country who are in the US to work for a period of time as a Disney intern.
As you tour the World Showcase you'll enjoy entertainment provided by various street performers and bands in set locations. Some of the entertainers you'll see are jugglers, mini plays with audience participation, Japanese drummers, and a band or two.
The World Showcase boasts some very good restaurants, which are not to be missed.
Transportation is available from the front of the World Showcase to the rear via water taxis called FriendShips. There are 2 different routes served by different boats.
From to the right of the World Showcase Entrance -to Morocco and back
From to the left of the World Showcase Entrance -to Germany and back
Note, since reopening after the 2020 closures, only the Morocco route has been operating. 
World Showcase Pavilions
The following is a listing of the World Showcase Pavilions, or countries, working your way clockwise around the lagoon.
Mexico Pavilion
Dominating the Mexican pavilion is a pre-Colombian pyramid. Inside you'll enter into a nighttime scene in a Mexican shopping plaza, the Plaza de Los Amigos, with carts and shops offering Mexican jewelry, pottery, clothing and leather goods. As you go further in you'll find a tequila bar, restaurant, and boat ride. Look across the way at the smoking volcano in the night sky.
Outside the pyramid on the promenade are two more restaurants, one table service and one counter service as well as a frozen margarita stand.
Attractions
Gran Fiesta Tour Starring the Three Caballeros – This tour features Donald Duck, Jose Carioca and Panchito from Disney's 1944 animated film The Three Caballeros. Search for Donald all over scenic Mexico on this slow boat ride. You and a dozen others (rarely is this ride busy, so it might be just you) will float past the volcano and through various scenes of beautiful areas of Mexico with Donald comically superimposed.
Dining
The San Angel Inn Restaurante – LD $$ – Table Service – located within the pyramid. Regional Mexican dishes featuring beef, chicken and seafood.
La Cava del Tequila – S$ – Table and Bar Service – The tequila bar within the pyramid. Authentic Mexican tequila in margaritas and tasting flights, plus appetizers.
La Hacienda de San Angel – D $$ – Table Service – located outside the pyramid. Authentic Mexican cuisine. Enjoy the view of the World Showcase Lagoon and Illuminations at the close of the evening.
La Cantina de San Angel – LD $ – Counter Service- Tacos, churros, tostados, Mexican beer and margaritas.
Choza de Margarita – S$ – Walk up Stand – The Margarita Hut serves margaritas on the rocks and blended, cerveza, tacos, empanadas, and guacamole.
Shopping
The Plaza de Los Amigos – Authentic Mexican souvenirs and treasures.
Artesanias La Familia Fashions – Casual Mexican styled clothing and jewelry.
El Ranchito del Norte – Souvenirs and gifts from Northern Mexico.
Vendors' carts offer home décor gifts, silver jewelry and other Mexican souvenirs such as sombreros, piñatas, pottery and worry dolls.
Norway Pavilion
The Norway Pavilion portrays a Norwegian town square complete with its cobble stone courtyard and replicas of a 14th century fortress and 13th century Stave church.
Attractions
Many fans were sorry to see Norway's Maelstrom ride close. It has been totally replaced by Frozen Ever After, a Frozen themed attraction. The new attraction takes guests to Arendelle via a boat ride and immerses them in many of their favorite moments and music from the film. In addition, a Frozen character meet and greet location was also added.
Meet Anna and Elsa at Royal Sommerhus – Meet the royal sisters of Arendelle in a private meet and greet.
Frozen Ever After (Genie+) – Board a wooden sailing ship to ride through the world of Frozen. Don't worry, you'll get to hear Elsa sing Let It Go! This is a high demand FastPass!
Dining
Akershus Royal Banquet Hall – BLD $$$ – Table Service – Offers "Princess Storybook Dining" character buffet meals for Breakfast, Lunch and Dinner. All menus are a mix of traditional Norwegian offerings and more recognizable items. Characters: Belle, Jasmine, Snow White, Sleeping Beauty, Mary Poppins, and occasionally Ariel in her gown.
Kringla Bakeri og Kafe – S$ – Counter Service – Open-faced sandwiches, pastries, and specialty coffees.
Shopping
The Puffin's Roost: Curios and Collectibles – Books, silver jewelry, Norwegian clothing, perfumes, and colognes.
China Pavilion
The China Pavilion is fronted by the triple arched ceremonial gate patterned after the Temple of Heaven in Beijing. To the right is the Hall of Prayer for Good Harvest which houses the movie Reflections of China. To the left is a side street with a commercial feel, here you find dining and shopping options.
Attractions
Reflections of China – a 360 Circle-Vision presentation filmed in Disney's movie in the round style, which features multiple screens that totally surround you, giving you a 360-degree view. The movie shows footage of China including the Great Wall, the Forbidden City of Beijing, the Gobi Desert, Inner Mongolia, the Yangtze River and the tropical rain forests of Hainan Island.
Circle-Vision is a Disney film technique invented for the theme parks in which cameras are mounted on a platform in a circle pointing outward to provide 360 degrees of coverage. The platform was then mounted on dollies, automobiles, helicopters, etc. In the attraction huge screens are mounted in a circle around the audience, who stand with handrails for balance and are able to look all around themselves in a full circle at the scenes in the movie.
Dining
Nine Dragons Restaurant – LD $$ – Table Service – A variety of Chinese cooking, including noodles, beef, chicken, and seafood.
Lotus Blossom Cafe – LD $ – Counter Service – Orange chicken, steamed rice, egg rolls, potstickers, shrimp fried rice, and vegetarian stir fry.
Shopping
Yong Feng Shangdian Shop – A wide variety of Chinese merchandise: clothing, furniture, jade carvings, and paper fans.   
The Outpost
On your way between China and Germany you will find two things, a drawbridge and the Outpost.
As you leave China the pathway begins to go uphill. At the top you'll pass over a drawbridge. At several times during the day the bridge is raised, preventing your crossing so that fireworks and other barges which are part of the Illuminations nighttime spectacular can pass from their backstage storage area into the World Showcase lagoon.
Once you cross the bridge you'll go downhill again, and the path will curve to the right. On the outside of the curve is the Outpost. Here you'll find a Quick Service food location, African souvenirs, as well as face painting and hair braiding.
This area was once thought to be the precursor to a full-fledged African pavilion for the World Showcase, but Disney went all out and created Disney's Animal Kingdom instead. Nothing has ever been done with this space which could house a new pavilion.
Attractions
The Outpost has no attractions, other than some outdoor drums for the kids to bang on.
Dining
Refreshment Outpost – S $ – Quick Service – Here you'll find drinks and snacks: hot dogs, frozen yogurt, as well as hot and cold drinks including specialty cocktails and beer. There are a few tables with umbrellas across the walkway.
Shopping
A variety of African trinkets are offered in an open-air setting.
Germany Pavilion
Enter the German platz (plaza), the surrounding architecture in the German Pavilion reflects a diverse cross section of German regions, from the replica of the medieval castle to the fairy tale Bavarian style buildings. A fountain with a statue of St. George slaying a dragon is the centerpiece of the cobblestoned platz.
Attractions
Germany has no attractions
Dining
Biergarten – L $$ D $$$ – Buffet Service – Traditional German food served in an Oktoberfest-style atmosphere. The all-you-can-eat buffet contains assorted sausages, rotisserie chicken, child's Frankfurters, assorted salads, breads, red cabbage, wine kraut, potatoes and spatzle.
Guests are seated at long communal tables.
Sommerfest – LD $ – Counter Service – Bratwurst and frankfurter sandwiches, sauerkraut, soft pretzels, and apple strudel as well as German beer.
Shopping
Weinkeller – Homemade fudge and nut clusters, pretzels, chocolate, cookies and Haribo brand candies.
Die Weihnachtsecke – Christmas decorations of all kinds, plus the Christmas pickle.
Kunstarbeit In Kristall – Crystal jewelry and decorations.
Der Teddybar – German teddy bears, toys and gifts.
Glaskunst – Crystal, glassware, and personally engraved steins.
Italy Pavilion
The Italy Pavilion represents various areas of the original country. It features an authentic 83-foot tall replica of the Campanile Bell Tower in St. Mark's Square, a replica of the 14th century pink and white Doge's Palace, and Venice with its bridges and gondolas that are moored to striped barber shop-style poles alongside the World Showcase lagoon.
You'll also find the "Fontana de Nettuno" a fountain inspired by Bernini's Neptune fountain.
Attractions
Italy has no attractions
Dining
Tutto Italia Ristorante – LD $$ – Table Service – Authentic Italian cuisine is found at this full-service restaurant that uses wall murals, dark wood booths and banquettes to make guests feel as if they've stepped out of the theme park and right into Italy. You will find a wide variety of Italian appetizers, entrees, and desserts including: Lasagna alla Bolognese, Ravioli di Ricotta, Pollo al Forno, and Cannoli.
Tutto Gusto Wine Cellar – LD $$ – Table Service – An appetizer-type menu, with various cheeses, mini panini sandwiches, pastas and seafood, plus more than 200 varieties of Italian wine.
Via Napoli Ristorante e Pizzeria – LD $$ – Table Service – A stone oven Italian pizzeria and restaurant. This restaurant features a big menu including many pizza varieties as well as build your own and a wide variety of Italian appetizers and entrees.
Shopping
La Bottega Italiana – Venetian masks, cookware, decorative items and Italian foodstuffs.
Il Bel Cristallo – Italian wares including Murano glass, porcelain, crystal, handbags, clothing and accessories.
American Pavilion
The American Pavilion features a colonial-style mansion whose roots are found in the architecture of Independence Hall, Boston's Old State House, Monticello and Colonial Williamsburg.  Within you will find the American Adventure attraction.
Across the World Showcase promenade on the lagoon is the outdoor stage and amphitheater known as the America Gardens Theatre. Live shows such as the Candlelight Processional, Eat to the Beat and Flower Power concerts are held here.
Attractions
American Adventure – The American Adventure is an attraction that takes audio-animatronics to the next level, coordinating them with scenes and footage, which takes place on the 72-foot wide projection behind them.
The show is narrated by the figures of Benjamin Franklin and Mark Twain, each chosen to represent their century of American progress.
The pair takes us through various scenes in the development of America. The scenes are presented both in still images, animations, movies, and 35 other audio-animatronic figures.
Scenes include: the Mayflower and the Pilgrims; the Boston Tea Party; the writing of the Declaration of Independence; Valley Forge and the Revolutionary War; slavery and the Civil War; the suffering of Native Americans; the Philadelphia Centennial Exposition; the founding of Yosemite National Park; and both World Wars.
While waiting for the next showing, listen to the Voices of Liberty, an a cappella singing group, who perform American folk songs in the lobby. I love the patriotism!
Dining
Regal Eagle Smokehouse – LD $ – Counter Service – A salute to American Barbecue featuring many different styles of BBQ. Memphis Dry Rub Pork Ribs, Kansas City Smoked Chicken, Texas Brisket and more!
Regal Eagle Smokehouse Outdoor Bar – Just outside to the left of the front doors of the Regal Eagle Smokehouse is an outdoor bar. Draft beer, hard cider, wine, and cocktails are available. They have a nice specialty cocktail menu. The Moonshine Sour is awesome!
Fife & Drum – LD $ – Counter Service – Turkey Legs, popcorn, ice cream, smoothies, and adult beverages. No seating.
The Funnel Cake Stand – S$ – Counter Service – Funnel cakes with various toppings.
Block and Hans – $ – A wide range of bottled beer.
Shopping
The Art of Disney – Collectibles, framed artwork, and sculptures.
Japan Pavilion
The Japan Pavilion is overlooked by a towering blue-roofed pagoda, which is a replica of a 7th century Horyuji Temple. Enjoy the spectacular Japanese garden with water lilies and colorful koi fish.
Don't miss the Japanese Taiko Drumming, which is performed several times a day. This energetic performance can be heard around the World Showcase during showtimes.
Attractions
Japan has no attractions.
Dining
Teppan Edo – LD $$ – Table Service – A Benihana type restaurant, guests are seated around a large grill where chefs chop, prepare and cook your meal. If there are less than 8 in your party, be prepared to sit with other guests. Entrees include chicken, beef, and seafood cooked alone or in combinations with crisp vegetables served with tasty sauces, steamed rice and salad. Sushi appetizers are also available.
Shiki-Sai: Sushi Izakaya – LD $$ – Table Service – Enjoy an array of tantalizing dishes crafted with the finest ingredients, reflecting the flavors of each season. Sushi lovers will marvel at a first-hand look at sushi being made behind the counter.
Katsura Grill – LD $ – Counter Service – Japanese curry, teriyaki, sushi, udon noodles, miso soup, and Japanese beers, wines, or sake.
Takumi-Tei – D $$$ – Table Service – Takumi-Tei, means house of the celebrates the relationship between Japanese craftsmanship and the natural world, while the food is inspired by the wonderful collaboration between nature and takumi, the artisan. In addition to a prix fixe multi-course tasting menu and a chef's table experience, the dinner menu highlights wagyu beef in a sublime setting along with sushi, sashimi, unique desserts, signature cocktails, premium sake and much more.
Shopping
Mitsukoshi Department Store. – A very large variety of Japanese gifts and souvenirs. From Hello Kitty and Tamagotchis to traditional Japanese footwear and clothing.
Morocco Pavilion
The Morocco Pavilion features a reproduction of the Koutoubia Minaret of Marrakesh, the prayer tower of the 12th century mosque. Explore the winding alleys with stucco archways and the ever-changing exhibits of Moroccan arts, artifacts and costumes.
Attractions
Morocco has no attractions.
Dining
Spice Road Table – LD $ – Table Service – Mediterranean small plates and specialty entrées—spicy garlic shrimp, fried calamari, beef and chicken skewers, and coriander-crusted rack of lamb.
Restaurant Marrakesh – LD $$ – Table Service – An assortment of hearty meats, Moroccan pastries and more.
Tangierine Cafe – LD $ – Counter Service – Mediterranean specialties, salads and desserts.
Shopping
Tangier Traders – Moroccan fine jewelry, traditional clothing and shoes, Camel bone mirrors, and handmade daggers.
Brass Bazaar – features brass or silver decorative plates and mirrors.  This shop also has an Outdoor Bazaar where ceramic tiles, native instruments, and handmade baskets can be found.
Medina Arts – Moroccan crafts and ceramic plates.
Casablanca Carpets – Hand knotted carpets and rugs.
France Pavilion
Overlooking the France Pavilion is a 1/10th scale reproduction of the Eiffel Tower. It is placed in a way that makes it look as if it is the actual size, but off in the distance behind the alley that goes deeper into the pavilion.
Attractions
Impressions de France – An 18-minute trip through France, giving guests a glimpse into the beauty of both the French countryside and the densely-populated cities.  See the palace of Versailles, winemakers, hot air balloons and the celebration of Bastille Day, all set to a beautiful soundtrack of French composers. Typically open 9:00 to 9:30 a.m. and 7:00 to 8:45 p.m.
Beauty and the Beast Sing-Along – Sing along with your favorite songs from the animated classic film, Beauty and the Beast while enjoying a new twist on this enchanting tale. This new version of the story paints Lefou as the hero of the story who in new footage shows how he got Belle and the Beast together behind the scenes of the original movie. While not a bad concept to put a new "theme park" spin on the story instead of just repeating the original, this is not the Lefou of the cartoon version. While animated just like the original the visual character is combined with an audio of the overly feminine Josh Gadd version of the live action movie. Typically open 9:30 a.m. to 7:00 p.m. Impressions de France and Beauty and the Beast Sing-Along are shown in the same theatre.
Tales As Old As Time: French Storytelling on Stage and Screen – Step into some of the world's most enchanting stories. At the Palais du Cinema, you'll explore 6 distinct gallery cases honoring the costumes, music and artwork that brought French literature to life through cinema, theater, ballet and opera. Catch a glimpse of how these stories inspired artists from around the globe, including those who created such timeless Disney classics as Sleeping Beauty, Cinderella and—of course—Beauty and the Beast.
Remy's Ratatouille Adventure (Genie+) – In this Disney Pixar's "Ratatouille" inspired attraction  guests "shrink" to Remy's size and scurry to safety in a dazzling chase across a kitchen with the sights, sounds and smells of Gusteau's legendary Parisian restaurant.
Remy's uses a Boarding Group system (like a reservation without a time) to control demand as well as selling access to the Lightning Lane…
A predetermined number of people are assigned to each Boarding Group which are numbered starting with 1 and going up. Boarding groups are called in order throughout the day and are then allowed to enter the ride line. When your Group is called you will have an hour to get to the attraction line and enter. There is one chance in the morning to join a Boarding Group and usually and afternoon chance as well.
You join your Boarding Group by using your My Disney Experience app. Currently at 7 a.m. Sharp you and your party can join a Group. You must have an EPCOT Park Reservation to do so. You want to be doing this at 7 as these are used up VERY FAST (within minutes). If you miss joining in the morning there is usually a second chance in the afternoon. Currently this takes place at 1 p.m. and you must physically be in EPCOT to do this in the afternoon. Again be right on time! The second group attempt is opened up if everything went well earlier in the day and they know they will be able to accomodate more people.
Previously the second attempt was at 2 p.m., but has just changed because afternoon Park Hopping started back up 1 January and Park Hopping starts at 2 p.m. THis prevents park hoppers from getting in the virtual queue.
Dining
Les Chefs de France – LD $$ – Table Service – Celebrating fresh and simple ingredients, the menu changes seasonally but may include such delicacies as beef tenderloin, classic onion soup and roasted duck with cherries.
Monsieur Paul – D $$$$ – Table Service – Embark on a culinary journey through refined French cuisine at Monsieur Paul, an elegant dining destination located within the France Pavilion in Epcot. Named after the legendary chef Paul Bocuse, this restaurant pays homage to his culinary legacy by offering a dining experience that is both luxurious and unforgettable.
Les Halles Boulangerie Patisserie – S$ – Counter Service – A traditional French bakery. Offerings include soups and salads, fresh baguette sandwiches and pastries. Wine, champagne, beer and gourmet coffees are also available.
Le Crêperie de Paris – Transport yourself to the charming streets of Paris with a visit to Le Crêperie de Paris, a delightful eatery within the France Pavilion in Epcot. This enchanting crêperie captures the essence of French culinary tradition, serving up a delectable array of sweet and savory crêpes that will tantalize your taste buds.
L'Artisan des Glaces – S$ – Counter Service – There are 16 flavors of handcrafted frozen treats, including ice cream and sorbet.
Shopping
La Signature – French cosmetics, fragrances, and makeup.
Plume et Palette – Designer French fragrances from Chanel, Escada, Givenchy, Lacoste and more.
La Maison du Vin – French wines can be sampled and purchased. Wine accessories, chocolates, cookies, kitchen linens, and cookware.
Souvenirs de France – French souvenirs, berets, miniature Eiffel Towers, and t-shirts.
International Gateway
Located between France and the United Kingdom is the International Gateway, this is the "back entrance" to EPCOT. Guests staying at the Deluxe EPCOT Resort area can stroll or take the boat from their hotels to the International Gateway to enter EPCOT.
Non-EPCOT Resort area guests are welcome to exit here to check out the resorts, great restaurants and BoardWalk area that this resort area has to offer.
Disney's Skyliner gondola station connects EPCOT with the Art of Animation, Pop Century, Caribbean Beach, and Riviera Resorts, and Disney Hollywood Studios.
Attractions
The International Gateway has no attractions.
Dining
The International Gateway has no dining.
Shopping
World Traveler – EPCOT and Skyliner Merchandise.
United Kingdom Pavilion
Enter the UK and stroll by red phone booths, a neighborhood pub and a quaint tea shop. Turn down the cobbled side street with shops, which leads to a park where you can listen to a British Rock concert.
The architecture represents the Tudor, Georgian, and Victorian influences that the United Kingdom is noted for.
Attractions
The UK has no attractions.
Dining
Yorkshire County Fish Shop – LD $ – Counter Service – Fish and chips, English cookies, soft drinks and "draught" beer, including Bass and Harp Lager.
Rose and Crown Dining Room – LD $$ – Table Service – English favorites like cottage pie, fish and chips, bangers and mash, plus variety of beers and ales and scotch. Food service is available at the bar.
Rose & Crown Pub – Attached to the dining room is the Rose and Crown Pub! This typical English pub is one of the liveliest locations in EPCOT. Have a pint, a pub blend, scotch, Irish whiskey, or your favorite mixed drink. Pub fare from the dining room is also available.
Shopping
Crown & Crest – Beatles and Rose & Crown merchandise, get your family coat of arms on a plaque.
The Tea Caddy – Twinings tea and tea accessories.
The Queen's Table – Irish Belleek fine Parian china, native music and books from Scotland, Ireland and Wales. Scottish or Welsh tartans and ties.
The Sportsmans' Shop – Offers all things rugby and soccer – Clothing, balls, hats, and books.
Canada Pavilion
The Hotel du Canada overlooks the pavilion, it was inspired by the Chateau Laurier, a historic hotel found in Ottawa. Below you'll find log cabin trading posts, landscaped grounds, and even totem poles.
Attractions
Canada Far and Wide in Circle-Vision 360  – Explore Canada in a newly updated edition of the classic, 12-minute EPCOT Circle-Vision 360 presentation.
Dining
Le Cellier Steakhouse -LD $$$ – Table Service – One of Disney's most popular restaurants, reservations go fast. Enjoy Canadian Cheddar Cheese Soup, steaks, prime rib and salmon.
Shopping
Northwest Mercantile – Kitras Art Glass, Hatley clothing, Roots fragrances and athletic wear, Deauville perfume, Ice Wines, body care items, and Canadian hockey gear.
The Trading Post – Maple products like syrup, candies, tea, and cookies. Handmade native jewelry, Maplefoot Babies stuffed animals, Anne of Green Gables books, BOMA totem poles, and faux raccoon and skunk skin caps.
EPCOT Entertainment
Fireworks
EPCOT Forever – From Magical Memories to a Fabulous Future.
Witness the wonder as the story of EPCOT and its next incredible chapter come to life in this nighttime spectacular. Behold the single "spark of imagination" that started it all. Watch it grow, evolve and transform into a nighttime extravaganza that stirs the senses and captures all you love about EPCOT and all that's to come––with dazzling fireworks and stunning laser effects set to tunes that have become theme park favorites.
You can view the show anywhere throughout EPCOT that offers a clear view of the World Showcase Lagoon. Since this is an outdoor show, it is subject to cancellation due to inclement weather. Entertainment is subject to change.
Parades
There currently are no parades at EPCOT.
There hasn't been one for many years. The last parade to run at EPCOT was the Tapestry of Nations/Tapestry of Dreams parade, which ran from 1999 to 2001 as part of the millennial celebration. The parade had a unity and world peace theme and featured a variety of large puppets and massive rotating drum units. My family loved it!
Shows & Other Entertainment
Note: some of these have started to return post closure.
One of the great impromptu performances that you might catch in Future World Is the Jaminators. These janitorial percussionists entertain crowds with their infectious beats on trash cans. You'll find them near Innoventions.   
You will find lots of culturally specific entertainment as you tour the countries of the World Showcase. Here are a few:
In Mexico, see a Mariachi band play inside the pyramid.
In China, see the Jeweled Dragon Acrobats perform amazing feats.
In Germany, enjoy Oktoberfest Musikanten, the "oompah" band inside the Biergarten restaurant.
In the American Adventure, see the Voices of Liberty, an a capella ensemble with a full repertoire of traditional American folk songs.
In Japan, see Matsuriza the traditional Taiko Drummers. When they are playing you can hear these huge drums all across the World Showcase Lagoon.
In France, see Serveur Amusant a comical waiter and wine steward duo that among other things perform a stacked chair routine.
In the United Kingdom see British Revolution. The band plays a chronological journey through the decades of popular British music.
Final thoughts on EPCOT
EPCOT had historically been a favorite of adults, while definitely not on the top of kid's lists. Mom and Dad enjoyed the World Showcase, "touring" other countries while enjoying adult beverages; at the time it opened and for many years EPCOT was the only one of the two parks where you could have an adult drink. While at the same time most kids were bored.
But in recent years with the addition of a few new big "E Ticket" rides like, Test Track, Soarin' Around the World, and Mission Space, plus the Phineas and Ferb adventure, and Frozen Ever After Disney has made EPCOT a draw for the younger crowd too.
Military families will really enjoy EPCOT's World Showcase, I certainly do as the represented countries are many that we've traveled to or been stationed in. Recently a group of other military aviators and I got together on a special occasion for a day at EPCOT. There we were on a cool November day, the seven of us sitting around two tables in the sunny German platz drinking German beer, eating brats, and telling flying stories! A good day, one of the best!
EPCOT Overview Pages:
Disney World's Other Theme Parks:
Also See:
This MDT Post By: Steve Bell
Steve is the the Military Disney Tips Founder. He a retired U.S. Military Member who's been touring the Disney Parks since 1971! Steve's mission is to help military families with their Disney vacations in every way. Check out Steve's Bio.
Subscribe to Steve's email newsletter to get website updates and news by clicking this link.
---
Planning a Disney Trip? Want to get the best military discounts that are available? Feeling a little confused?
See Our Great Disney Discount and Planning Info:
Learn about the Disney Armed Forces Salute the best military discount that there is for Disney.
See our Topic Overview Pages:
---
---