Disneyland's Flag Retreat Ceremony: A Tribute to American Heroes
Once upon a time, the great Walt Disney stood just feet from Old Glory in the center of Disneyland's Town Square and proclaimed, "Disneyland is dedicated to the ideals, the dreams, and the hard facts that have created America."
Main Street, U.S.A. is a tribute to America in and of itself, boasting beautiful icons of turn-of-the-century America and offering guests the nostalgia of the golden age.
It's on this very street that Disneyland Park guests will find a time-honored tradition of patriotism, loyalty, and celebration of the country we call home: the Flag Retreat Ceremony.
The Flag Retreat Ceremony is a daily occurence when Cast Members and Disneyland guests alike pause to honor America and Her heroes. This beautiful service takes place at sunset in the center of Town Square, just in front of the Disneyland Railroad Main Street Station.
There is no official time listed for this Ceremony, as it changes daily with the sunset. Ask a Cast Member early in the day what time the Ceremony will be held.*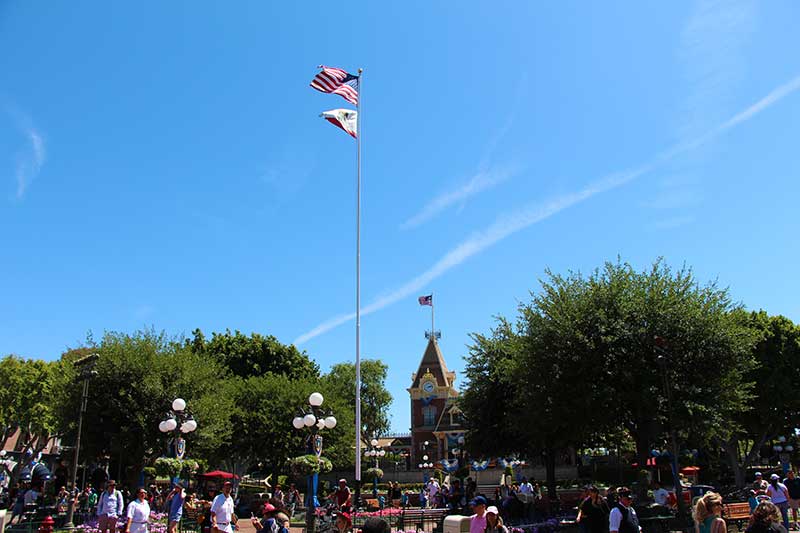 The Flag Retreat Ceremony is a patriotic event that features the retiring of the Colors for the night. During this service, either the Disneyland Band or Dapper Dans will offer their musical talents for The National Anthem and the hymns of each Military branch. When the Dapper Dans are the only musical group available, the Ceremony is usually shortened by half.
Active and retired members of the Armed Forces are encouraged to participate in the Ceremony, and will be called up by branch. Cast Members will also choose an Honorary Veteran of the Day who will be included in the service, presented with Old Glory, and given an official certificate and commemorative pin.
It is quite breathtaking to stand with a group of strangers from every corner of the world to honor the American Flag and the patriots who fight for our country. What's even more incredible is the way that this group grows throughout the Ceremony, as passing hustle-and-bustle tourists take a pause from their amusement park exploring to join in a time-honored tradition.
Whether you're able to sing along with the hymns of American history, or you're simply there as an observer, the Flag Retreat Ceremony is certainly a can't-miss piece of Disneyland Park that will be around for years to come.
Have you watched the Flag Retreat Ceremony? What were your experiences? Let us know in the comments section below.
See our post on Walt Disney World's Retreat Ceremony
This MDT Post By: Steve Bell
Steve is the the Military Disney Tips Founder. He a retired U.S. Military Member who's been touring the Disney Parks since 1971! Steve's mission is to help military families with their Disney vacations in every way. Check out Steve's Bio.
Subscribe to Steve's email newsletter to get website updates and news by clicking this link.
---
---
Planning a Disney Trip? Want to get the best military discounts that are available? Feeling a little confused?
See Our Great Disney Discount and Planning Info:
Learn about the Disney Armed Forces Salute the best military discount that there is for Disney.
See our Topic Overview Pages:
---
---