Come on, come all to the Storybook Circus in the expanded section of Fantasyland in the Magic Kingdom to see the Great Goofini on the world famous Barnstormer! Ok, maybe not exactly world famous…
The Barnstormer is a small, very short, roller coaster which is a great introductory coaster for kids. If your child is just now tall enough to start riding roller coasters, it's best to not start off with something intense like Space Mountain. The Barnstormer will tell you if they are ready for bigger ones or not.
About
The backstory of The Barnstormer is that Goofy, dressed as the Great Goofini is all ready to fly in his homemade airplane, but guess what? It doesn't quite go as planned! Disney defines this ride as a "junior coaster",  with the shortest height requirements of all coasters in Walt Disney World with a  height requirement of just 35".
The Queue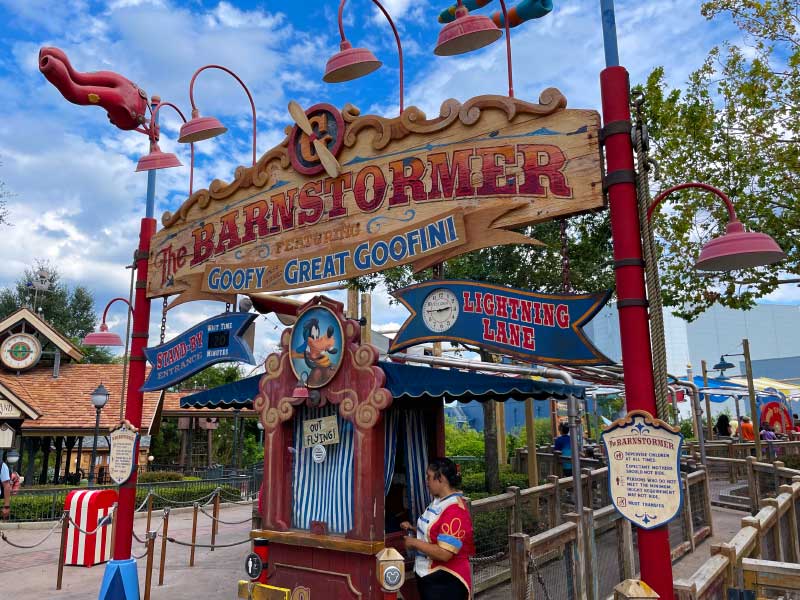 This is such a quick ride, no matter how long the line is, you won't spend much time in the queue. While you are there, look around! There are posters advertising the Great Goofini all throughout the area.
The queue is 100% in the Florida sun, so try to avoid The Barnstormer in the middle of the day!
The Ride

Not sure if your child is going to like fast rides? The Barnstormer is just a short 53 seconds, so even if they are terrified, it's over almost as quickly as it began!
If they love The Barnstormer, great! Move on to Seven Dwarfs Mine Train! If your child is terrified and crying, wait until next year to try another coaster. We never recommend forcing children to go on a ride because fear is a real magic killer.
Effects/Sensory Warning
Quick, tame coaster
Guests must be 35 inches or taller to ride!
The ride vehicles on The Barnstormer are quite tight. They are meant to comfortably fit 1 adult and 1 child. It would be a little too cozy for comfort for 2 adults.
See all our Theme Park Pages:
Comments, Questions, be sure to leave them in the Comment Section Below!
This MDT Post By: Erin Schreiver
Erin is a MilSpouse who loves going to Walt Disney World with her family, pin trading, and collecting Minnie ears and coffee mugs! Check out her bio.
---
Planning a Disney Trip? Want to get the best military discounts that are available? Feeling a little confused?
See Our Great Disney Discount and Planning Info:
Learn about the Disney Armed Forces Salute the best military discount that there is for Disney.
See our Topic Overview Pages:
---
---