Tortuga Island, often called Turtle Island, is an island north of Haiti that was a major spot for piracy in the 17th century. In Walt Disney World, Tortuga Tavern is a small quick service restaurant across from Pirates of the Caribbean in Adventureland.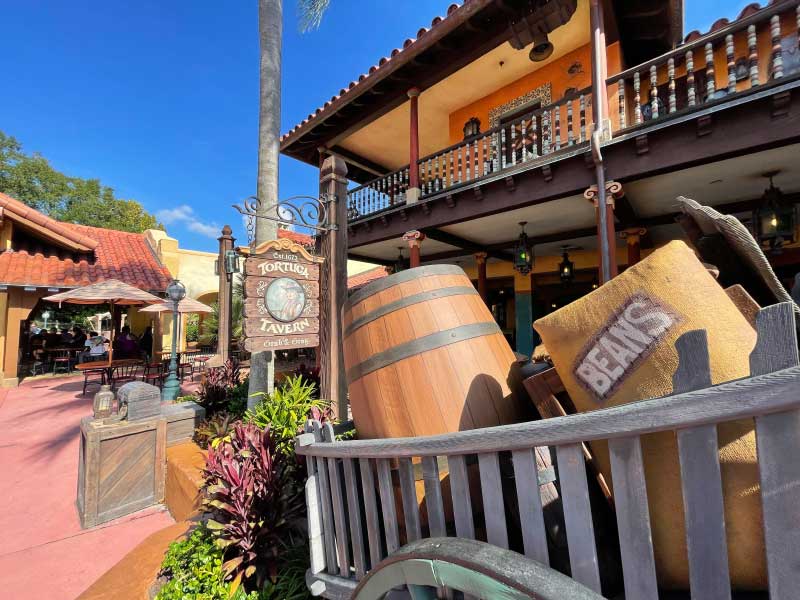 This restaurant is small with subtle pirate theming. Ahoy, fans of the Pirates of the Caribbean movie series! You can find ship manifests featuring the names Captain Jack Sparrow and William Turner in the decor. Be on the lookout for more fun easter eggs… Specifically a special jar of dirt. #iykyk
There is ample seating in Tortuga Tavern, as it is not the Magic Kingdom's most popular restaurant. PRO-TIP: This makes it a great spot to sit and enjoy your Dole Whip from Aloha Isle.
Editor's Note: the Tortuga Tavern was previously called El Pirata Y El Perico (the Pirate and the Parrot), and WAS my family's favorite MK restaurant for many years! Before it became a seasonally open restaurant quite a few years ago they served awesome food (Beef Nachos, Burritos, Taco Salad, Vegetarian Burritos as well as Triple Chocolate Cake) and it was always lightly trafficked. 
Menu
Tortuga Tavern has seen many menu shifts over the years, but mainly it is the home of unusual hot dogs and giant turkey legs. Sometimes we have seen interesting creations, though the fact that there are no orange smoothies to fend off scurvy just seems like a missed opportunity to us.
The current menu offers a barbeque slaw dog, a grilled peanut butter and nutella sandwich, and chicken strips. While there is nothing that would make us flock to Tortuga Tavern, it's in a great location and our favorite place to hide from the rain.
There is no Mobile Order option for Tortuga Tavern, but there is never really a line, so it isn't really necessary.
PRO-TIP: Tortuga Tavern is a great place to sit if you bring your own food to the park!
See all our Theme Park Pages:
Have comments or questions, be sure to leave them in the Comment Section Below!
This MDT Post By: Erin Schreiver
Erin is a MilSpouse who loves going to Walt Disney World with her family, pin trading, and collecting Minnie ears and coffee mugs! Check out her bio.
---
Planning a Disney Trip? Want to get the best military discounts that are available? Feeling a little confused?
See Our Great Disney Discount and Planning Info:
Learn about the Disney Armed Forces Salute the best military discount that there is for Disney.
See our Topic Overview Pages:
---
---