Does your family love a little competition?
Buzz Lightyear's Space Ranger Spin is both a ride and a game attraction. You are armed with a laser gun and you have to help Buzz Lightyear defeat the Evil Emperor Zurg. Yup, that's right! You are in Buzz Lightyear's video game!
This is a perfect family-friendly ride with no height requirements, and even pregnant women and infants can ride, as well.
See how well you stack up against your family to see you is a lowly Space Cadet, and who among you is the elite Galactic Hero.
The Queue
The queue experience at Buzz Lightyear's Space Ranger Spin takes you back to a 90s style video arcade. You are surrounded by bright colors, and shapes, and all kinds of neat things to see. . HOWEVER! The queue area inside is unnecessarily loud. You can hear sirens and alarms going off as you are being prepped "for battle".
This is an omnimover attraction and the line moves quickly! The average wait time for Buzz Lightyear's Space Ranger Spin is around 35 minutes. You really don't need a Lightning Lane for Buzz Lightyear's Space Ranger Spin. Instead, we recommend you book a Lightning Lane for a ride with a longer line, like the nearby Space Mountain, and wait in the standby line for Buzz Lightyear while you are waiting for your Lightning Lane time slot.
If you need more information about Genie+, read it here.
The Ride
Buzz Lightyear's Space Ranger Spin is an omnimover attraction, meaning that it doesn't stop. Don't worry, if you have mobility issues. They can slow it down to allow you to get on safely. The rider cars are very roomy, and there are no bars or seat belts. The laser blasters are on a door that Cast Members will latch shut.
These vehicles comfortably fit 2 adults and can also accommodate 1 additional small child, however, there are only 2 blasters. Be sure to smile during the ride, there is a ride PhotoPass being taken!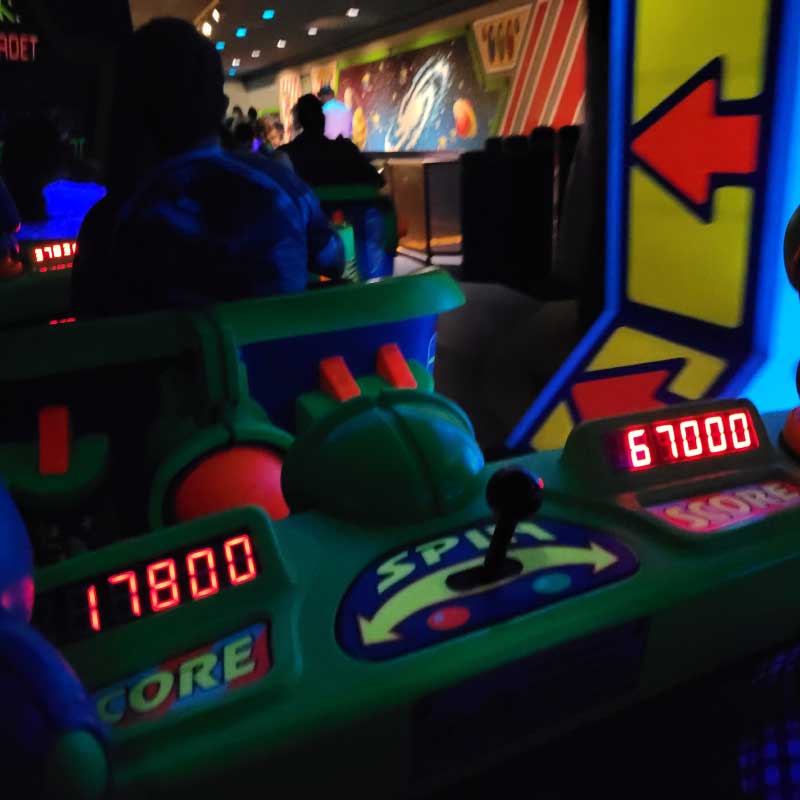 See more information about PhotoPass and Memory Maker here.
Break out your sharpshooter skills, here you will use your laser blaster to shoot the Zurg "Z"s to rack up points. Compete with the other person in the car for a fun bet. Loser buys churros!
Some targets are worth more than others. Here's a tip: moving targets are worth the most! Max out the game with 999,999 points and earn the title of Galactic Hero.
Free Souvenir!
You don't hear about a lot of free stuff at Walt Disney World, but Buzz Lightyear's Space Ranger Spin has an opportunity for a FREE souvenir. If you max out the game at 999,999 and earn the rank of Galactic Hero, you will receive the coveted Galactic Hero sticker!  You can't buy it, you have to earn it…
Talk about bragging rights! That sticker would be laminated and displayed on the military coin rack as proof of your exceptional intergalactic skillset. If you get The Sticker, you will have bragging rights for not only the rest of the trip, but to infinity and beyond!
Tips to be a Galactic Hero!
Check back for a future article all about the big point spots to max out this game, and other competitive game spots in Walt Disney World,  and impress your family! Or crush them and walk out victoriously…
Effects/Sensory Warning
Very loud queue
Sirens
See all our Theme Park Pages:
Comments, Questions, be sure to leave them in the Comment Section Below!
This MDT Post By: Erin Schreiver
Erin is a MilSpouse who loves going to Walt Disney World with her family, pin trading, and collecting Minnie ears and coffee mugs! Check out her bio.
---
Planning a Disney Trip? Want to get the best military discounts that are available? Feeling a little confused?
See Our Great Disney Discount and Planning Info:
Learn about the Disney Armed Forces Salute the best military discount that there is for Disney.
See our Topic Overview Pages:
---
---