Here is my review fo my stay at the Walt Disney World Dolphin.
The Dolphin and its sister hotel the Swan are Walt Disney World Epcot Area Deluxe Resorts. These hotels are not owned and operated by Disney! They are owned by Tishman Hotel Corporation and MetLife; and operated by Starwood Hotels, the Dolphin under the Sheraton Brand. They were the first non-Disney owned hotels allowed on property during the Michael Eisner era.
The Resort
The Dolphin is located in the Epcot Deluxe Resort Area along with its sister the Swan, and the three Disney Resorts: The Yacht and Beach Clubs and the BoardWalk Inn. The Dolphin is the furthest resort of all of these from Epcot's International Gateway entrance. This also makes it closest to Disney Hollywood Studios.
The Swan and Dolphin are "convention hotels" catering to conventions, conferences, and meetings. They both have large convention facilities.
There is no Disney theming within the Dolphin or Swan. Only those with the very highest rooms facing Epcot would notice that they are at Walt Disney World.
The Room
The rooms are quite nice! The furnishings and bedding are high quality and comfortable. I was quite comfortable and enjoyed the time I spent in the room.
The rooms offer a large flat screen TV, wireless internet*, a mini fridge and coffee maker.
The bathroom is split with a separate sink and mirror area.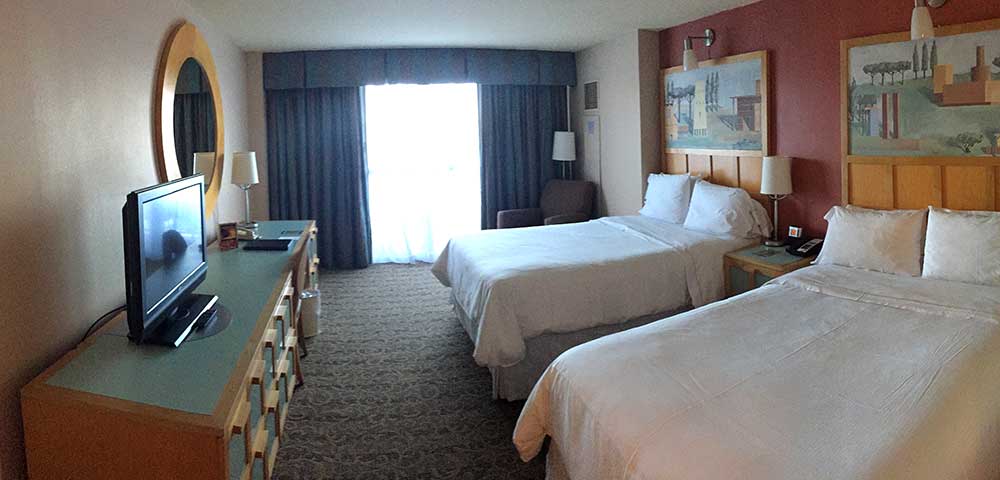 I was at the Dolphin for a conference and so received a great conference rate that was much lower than their Military Discount Rate (see below). This enabled me to spring for an "Epcot view room."
The first Epcot Room that I was sent to unfortunately had zero view of Epcot!
After working with the Front Desk, they switched me to the highest floor facing Epcot (the 9th) which had a view of the roofs of the higher buildings in the theme park.
Note: Since my stay rooms have been renamed as Fireworks View and Theme Park View. Fireworks would be the lower, where you can't actually see the Epcot due to the trees, but can see the fireworks over them.
Resort Amenities
Main Pool with Hot Tub
Two Quiet Pools
Kiddy Pool
Kiddy Water Play Area
Playground
Guest Laundry
Fitness Center and Spa
Lakeside Beach
Camp Dolphin – Child Care
Dining
The Swan and Dolphin have a plethora of restaurants, many of very high quality. They run the full spectrum from Grab-and-Go to Fine Dining.
Shula's Steakhouse – Located on the Dolphin lobby level, reservations are accepted. Dinner only.
Fresh Mediterranean Market – In the Dolphin – breakfast (buffet) and lunch (buffet), .
BlueZoo – in the Dolphin is a seafood restaurant by Todd English – Late lunch and dinner.
Dolphin Fountain – Burgers, ice cream, and shakes – Lunch and dinner.
Picabu – In the Dolphin – Cafeteria service plus the hotels 24-hour convenience store.
The Cabana Bar & Beach Club – Poolside dinning – Burgers and salads
Garden Grove – In the Swan – Character breakfast buffet and standard lunch and dinner. The Garden Grove at the Swan offers a morning character breakfast buffet.
Kimonos – In the Swan – Asian specialties and sushi.
Il Mulino New York Trattoria, – In the Swan – Italian cuisine.
Splash Grill – Located near the pool – hamburgers, hot dogs and snacks. Open for breakfast, lunch, dinner.
Room Service is available 24 hours a day. Breakfast, all-day dining and late night menus are available.
I had Breakfast and lunch at the Dolphin's Picabu and both were fast and great. Breakfast was standard items while lunch had a south of the border theme.
For more information on dining please see the Disney Food Blog
Check In & Out
The check in process was definitely much less guest friendly than you will find at any Disney owned resort! I checked in around 1 p.m. and had to stand in a queue line for 40 minutes to do so. There were only 2 front desk personnel taking care of the long line of guests trying to check in and out. In comparison, I've never waited more than a minute or two to check in to a Disney resort! Not only do they have numerous personnel behind the front desk, but they also have personnel with mobile devices to handle any overflow.
I queried the front desk staff as to why they did not have enough people working to handle their guests in a timely manner, to which she replied "I'm sorry, we have a lot of guests checking in and out this time of day." Well In knew that! She just stated the problem to me rather than answering why their guests time was unimportant to them.
Check out was almost as painful, taking only 20 minutes of waiting in line. They do offer an express check out service which you have to call in order to participate. I did the standard check out to see if check in was a fluke, it wasn't! Only 2 people were checking guests out.
Disney Benefits
Disney's Magical Express: No (Guests must find their own way from the airport to WDW)
Disney Transportation from the resort: Yes
Free theme park parking: Yes
Participation in Extra Magic Hours: Yes
Charging Disney purchases to your room: No (only within the Swan and Dolphin complex)
Disney Merchandise delivery to your resort: Yes
Guaranteed theme park entry: Yes
Disney Dining Plan: No           
Advance Dining Reservations for entire trip: No
Dolphin Prices
Note: you may use your Starwood points for rooms here
The Dolphin has numerous different room types consisting of variations of:
2 Double Beds
1 King Bed
Theme Park Views (Higher – above the tree line)
Fireworks Views (Lower – below the tree line)
Balconies
Standard, per tax prices run from $255 to $360 nightly for most room types. Marriott members save about $8 per night and fully prepaying your bill (with a 1-day prior cancellation policy) will save an additional $15 to $20 per night.
*There is a mandatory $30 plus tax per day Resort Service Package. The Resort Service Package includes extravagances like: in-room High Speed Internet Access, 2 bottles of water daily, unlimited access to the Resort's health club facilities, unlimited local and domestic (US mainland) calls, tennis equipment and access to lighted courts, and seasonal pool and recreational activities.
Resort fees are just a way for hotels to advertise a lower rate and then surprise you with the real rate, usually at check in. See what the Disney Tourist Blog thinks about Resort Fees.
Suites – call for rates
Parking is 25 per day for self-parking your car in the Swan and Dolphin's lot. Valet parking is $35 per day.
Rates vary based upon date
These are basic rates without tax added. There are even higher rates during all times for packages which include meal(s) and other extras.
Military Discounts
Unfortunately, they no longer offer the TROOPS package which started in 2009 and ran through 2016, which included 50% off Food & Beverage and several other amenities.
The Swan and Dolphin do still offer discounts for the military under their government rate code GO1.
Call (888) 828-8850 and ask for the military rate code.
Overall this is a great resort for those who don't care about a fully immersive Disney experience or who have a lot of Starwood points.
See our Swan and Dolphin page on the main site
See our Swan Review
Military Discount on Orlando Airport Transportation
This MDT Post By: Steve Bell
Steve is the the Military Disney Tips Founder. He a retired U.S. Military Member who's been touring the Disney Parks since 1971! Steve's mission is to help military families with their Disney vacations in every way. Check out Steve's Bio.
Subscribe to Steve's email newsletter to get website updates and news by clicking this link.
---
Planning a Disney Trip? Want to get the best military discounts that are available? Feeling a little confused?
See Our Great Disney Discount and Planning Info:
Learn about the Disney Armed Forces Salute the best military discount that there is for Disney.
See our Topic Overview Pages:
---
---