We've only used the DDP once during over 50+ trips to Walt Disney World since the Disney Dining Plan started in 2005!
And that one time was only for our research.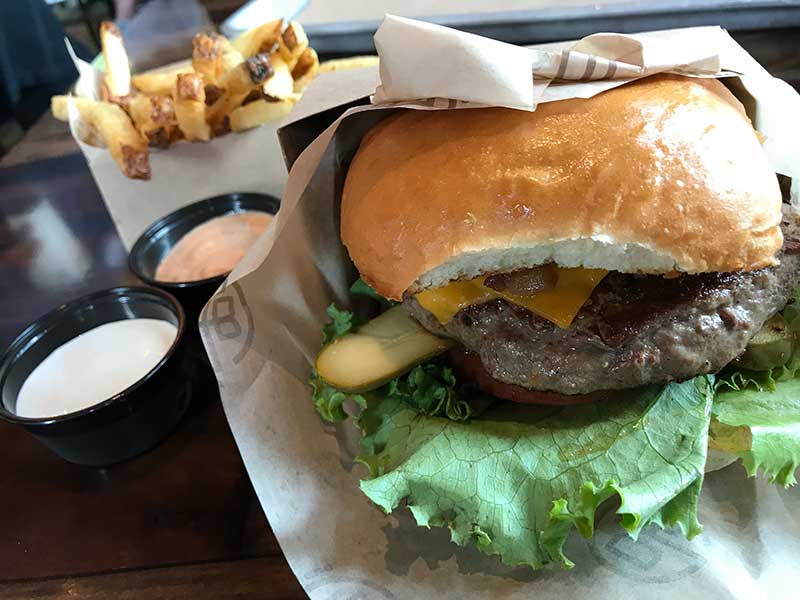 Why you ask, would such a seasoned Disney family not use the dining plan that so many people rave about?
Because we do not think it is a good deal!
In this post I'll talk about all the reasons why I think the DDP isn't a good deal and then at the end I'll give some examples from my trip.
See our Disney Dining Plan Overview Page for more details on how the plans work.
# 1. Someone is losing money
Disney is in the business of making money! 
Disney would not offer the Disney Dining Plan (DDP) at Walt Disney World unless they were making money on it. Big money.
They are not offering it at a loss!
That means those purchasing it are not, overall in general, coming out ahead. They are losing money.
The DDP is offered only as a package add-on to Disney resort reservations. Those staying at Disney resorts would have to eat anyway during their stay, so Disney is not making extra money by enticing you to eat.
Packages come with prepayment and more strict cancellation rules than Room Only room reservations.
Disney does make a huge profit on all food and beverage sales (my specialty when I worked there was calculating this profit percentage).
The way WDW makes money on the DDP is through those who do not use it to its full value.
The 2024 regular Disney Dining plan costs: $94.28 per night per for adults. If you only use 80 dollars worth per night, Disney makes about $14.28. You've pre-paid Disney $94.28 for your meals and not used all of what you paid. This is happening many thousands of times, daily! That's how they make money.
You have to really work to get your full value and be the winner in this only one side comes out ahead game.
#2. Lots of Research, Pre-Planning, and Tracking Required
Most Disney World Guests just buy the plan and use their credits however they feel like, without any forethought, thinking it is a good deal. That's' how Disney makes money on it!
In order to not lose money when using the DDP you have to do a lot of careful planning ahead and also precise monitoring of how you are doing while you are there.
When you pre-pay for your Dining Plan, it is the last time that Disney talks about your dining plan or meals as a dollar value.
Your cash payment is converted to "credits" and that's what you'll see and pay with during your vacation: Quick Service or Table Service credits for meals and Snack Credits for miscellaneous items.
Disney shows you a running total of how many credits you have left, not how many dollars remaining. You have to save your receipts and add them all up to see how you are doing and how much you have to use with each remaining credit to break even.
This makes it very easy for you to ignore whether you are actually getting what you pre-paid for.
It is totally possible to use your credits for well less than you paid to buy them!
In order not to lose money you have to use your credits for the most expensive meals on the restaurant menus and the priciest snacks that you can find.
#3. Snack Credits – Under Used or Unused
Oh the dreaded Snack Credit.
Disney pushes cheep options – When you are on the DDP as you go through your day at all the various food locations that you visit, you will notice that the cast members will continually ask you, "Would you like to use a snack credit for that?" or they will suggest a specific item in amongst your multi-item order, "Would you like to use a snack credit for your apple?"
If you pay attention to the actual price of these suggestions (quite often a water bottle) they are lower price items 3-4 bucks or under. You've got to use snack credits for $6.00 plus items in order not to lose money.
Left over credits – People tend to not use the snack credits. I can't tell you how many times I've seen someone getting numerous random snack items just before they depart, just to use the credits. These items (candy etc.) don't meet the $6..00+ rule. There are also those who go home with unused credits!
That's how Disney makes money.
#4 Package Required to Get the DDP – Advance Payment Required
The Disney Dining Plan must be part of a package.
By adding the DDP to your room only reservation you make your reservation a package.
Packages have many very restrictive monetary rules:
A $200 deposit is required within 3 days of reserving your package
Final payment of the entire remaining amount for the package is due 30 days prior to check-in. The full package amount is due when booking if you are booking 30 days in advance or less.
You may change or cancel your reservation without any penalty up until 30 days in advance. Cancellations made 29 days to 2 days prior to arrival have a cancellation fee of $200 per package, if reservations are cancelled 1 day prior to arrival or later, the full package price is non-refundable. You'll also lose any non-refundableadd ons like travel insurance and airfare purchased through Disney.
After you've made that final payment, any changes, such as changing dates, number of days, and/or changing to a different resort, is subject to a $50 change fee and a $15 processing fee.
Here are the way less restrictive rules for room only reservations:
One night's room rate is required as a deposit within 3 days of reserving your room
Final payment of the remainder is due at check-in
You can change or cancel your reservation without penalty up until 5 days prior to check-in.
The cancellation penalty for cancelling less than 5 days from check-in is the first night's room rate
So you can see the room only reservation is much more flexible for military schedules!
See out Room only vs Package Post
#5 Forced Full Service – Meals
Both the Standard and Deluxe DDPs include 1 and 3 table service meals respectively.
Table Service Meals take more pre-planning (deciding where and when to dine to coincide with your park schedule), making your dining reservations (often as many as 180 days in advance), and taking time out of your day for 1 to 3 sit down meals.
Yes you can use a table service credit at a quick service location, but then you are big losing money. Disney likes you to do this!
You need to decide what's the best use of your time, long table service meals or more time riding rides.
All the pre-scheduled meals also prevent spontaneity! 
You will be locked into where you need to be in order to make your dining reservation.
Because of your reservations, you can't decide to grab a quick meal at a location that looks great.
Skipping an advance dining reservation will cost you $20, via a no-show fee. You are required to provide a credit card when making dining reservations.
#6 No Discounts Allowed When Using the DDP
Disney pass holders, Disney Visa cardholders, and Tables in Wonderland cardholders all receive discounts on food at a multitude of WDW restaurants.
Not so with the DDP, you can't use these discounts, everything is full price!
#7 You Still Have to Buy Food When On The DDP
The Quick Service and Standard Dining plans do not cover 3 meals a day.
The QS and Standard plans only cover 2 meals and 2 snacks. Some people use their snack credits for breakfast, but then have to pay for snacks in the parks. Others buy food and eat breakfast in the room.
All days of your vacation are nor covered. 
Check in day to check out day equals one more day than you'll receive credits for. Depending on your arrival and departure times you could be short at least 2 meals (dinner on check in day and breakfast on check out day, If you need lunch either day that's an additional meal.
So when using the DDP, you will still have to buy additional food and beverages!
#8 Refillable Mugs
Each person on the DDP receives a refillable mug. It's good for the length of your stay, only at your resort, for unlimited soda fountain items, coffee, and tea. They are not valid for milk.
You cannot use these mugs for free drinks at the theme parks! It's comical to me to see families lugging 2, 3, 4, 6 refillable mugs to the parks, where they think they can be used. They will be disappointed!
The location to fill your mugs is at your resort's food court/quick service location. This may be a long walk (10 plus minutes at many resorts) from your room. This presents 2 problems:
If you take the mugs to breakfast, what do you do with them after? Trudge back to your room to store them, or carry them to and around the parks all day? (you could fill them with water from fountains there)
The other time that you would be able to use them is at the end of the day. Will you feel like making the hike to the food court to fill them after a long day on your feet?
Note some resorts do have satellite beverage locations at their pools.
You could request a room close to the main building of your Resort, many Resorts charge extra for this though.
The only great use of these is on a non-park day while chilling at your resort's pool.
The cost of the drinks you do use should be deducted from what you paid for the DDP in your calculations.
#9 Light and Picky Eaters
This presents a challenge at table service restaurants (that you've had to reserve ahead), where portions can be large and some might not find something to their liking.
Many complain that the Deluxe DDP offers too much food at one sitting.
Food you have to order but don't eat is a waste. Yes you might have used your DDP dollar value but left food on your plate. Better to pay for what you want as you go!
#10 Two Credit Meals
Some fine dining restaurants and character meals cost 2 table service credits, further increasing the number of excess meals that you will have to pay for out of pocket in addition to the DDP and requiring that you get the very most expensive items at these 2 credit meals to attempt to break even.
#11 Tips Not Included
The DDP does not include tips for your full service meals. These you'll have to pay for yourself.
My Experience
In September 2017 I spent 4 nights at the Port Orleans French Quarter Resort solo. I purchased the regular Disney Dining Plan at the 2017 price of $69.35 per day or $277.40 for the 4-night stay.
I had a room that was very close to the food court in this small moderate resort, making use of my refillable mug easier. Special circumstances during my trip were that 1 it was during the Epcot International Food and Wine Festival, where people (me included) tend to graze on small appetizer sized items rather than having a meal and 2 that I used my 4 table service credits for 2 fine dining meals (which were about the cost of 2 regular table service meals), this simulated 2 character meals as a family might do.
On the my check-out day after checking out, I went to Universal Studios for the morning and then checked in at Shades of Green. I used my last QS credit and 4 snack credits for appetizers and deserts at the Epcot Food & Wine Festival that evening.
Below I'll list my expenditures with the cost of the items purchased with DDP credits and those I purchased via cash, credit, room charge (all listed as cash) day by day and then total it for you. Listings for soda and coffee are with the refillable mug at the food court.
Day 1 – Check In Day
DDP – I used 1 QS credit for lunch $17.34 and 1 soda $2.97 = Total $20.91
Cash – $36.11 (Airport breakfast, Dinner, 1 bottle of water)
Day 2
DDP – 1 Snack credit $4.25, 1 coffee $3.50, & 2 sodas $5.94 = Total $13.69
Cash – $80.42 (Breakfast, Lunch, Dinner)
Day 3
DDP – 1 QS credit breakfast $17.34, 1 TS credit dinner $67.72, 2 snacks $6 & $8, 1 coffee $3.50, & 2 sodas $5.94 = Total $108.50
Cash – $27.75 (3 waters, a cappuccino after dinner, and $13.50 table service tip)
Day 4
DDP – 1 QS credit lunch $15.20, 1 TS dinner credit $70.85, 1 snack $2.99, 1 coffee $3.50, & 2 sodas $5.94 = Total $98.48
Cash – $24.61 (dessert with lunch, soda, $14.25 table service tip)
Day 5 Check Out Day
DDP – 1 QS credit used as 3 snack credits (a modification Disney offers) $5, $4.50, & $5.50, 4 snack credits $4.50, $4.75, $4.75, & $5.50 Total = $35.50. All these snacks were a grazing dinner at the Epcot Food and Wine Fest (several apps and desserts)
Cash – $43.65 (Breakfast, Lunch at Universal – Margaritaville with a military discount, and 3 waters)
Total DDP dollar value used = $275.48
Total cost of DDP = $277.40
Disney's profit = $1.92
I should have got a coffee that morning I checked out…
Extra cash meals and snacks = $212.54
Total DDP and Cash = $488.029
I worked hard tracking my expenditures vs the amount I paid for the plan and was judicious with the use of snack credits for expensive items. If I'd used the snacks on all of the waters that cast members kept trying to get me to, or didn't get those sodas after my return at the end of the each day I'd have lost even bigger. Note in 2017 the snack credit value was $4.50
Check Please
Dining at Disney is not cheap!
The 2 signature meals equate to character meals, which many families like to attend.
$488 for 5 days at WDW is not exorbitant for someone eating all of their meals with Disney.
Summary
Is the Disney Dining Plan for you?
Maybe, Maybe not.
Who the DDP might not be right for
Those with variable military schedules
Those who don't want to pre-paying for the entire room/food reservation ahead
Those on a budget
Those who want to get what they pay for
Those who don't want to do a lot of pre planning
Those who don't want to monitor what they are using compared to what they pre-paid while on vacation.
Who the DDP might be right for
Those who know they will be able to keep to their vacation dates
Those who don't mind pre-paying for the entire room/food reservation ahead
Those who want to pay ahead and spread out their cost
Those who don't want to have to think about (some of) their food cost on vacation
Those who don't care if they lose some money for the convenience of not thinking about the cost
What About You?
Are you a fan of the DDP or someone who doesn't think it is cost effective like me?
Share your thoughts and experiences in the comment section below!
This MDT Post By: Steve Bell
Steve is the the Military Disney Tips Founder. He a retired U.S. Military Member who's been touring the Disney Parks since 1971! Steve's mission is to help military families with their Disney vacations in every way. Check out Steve's Bio.
Subscribe to Steve's email newsletter to get website updates and news by clicking this link.
---
Planning a Disney Trip? Want to get the best military discounts that are available? Feeling a little confused?
See Our Great Disney Discount and Planning Info:
Learn about the Disney Armed Forces Salute the best military discount that there is for Disney.
See our Topic Overview Pages:
---
---